The Little Blue Book of Marketing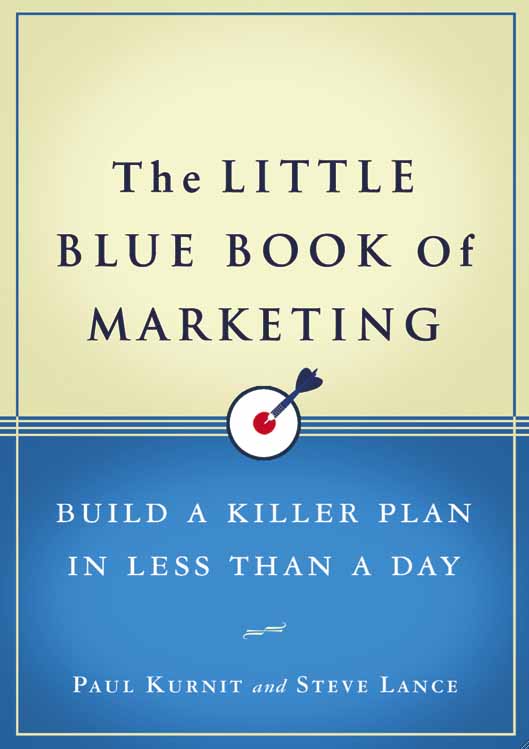 This is the cover of our book about an elegant new method to build powerful marketing plans for virtually anything in less than a single day.
Details
Breakthrough!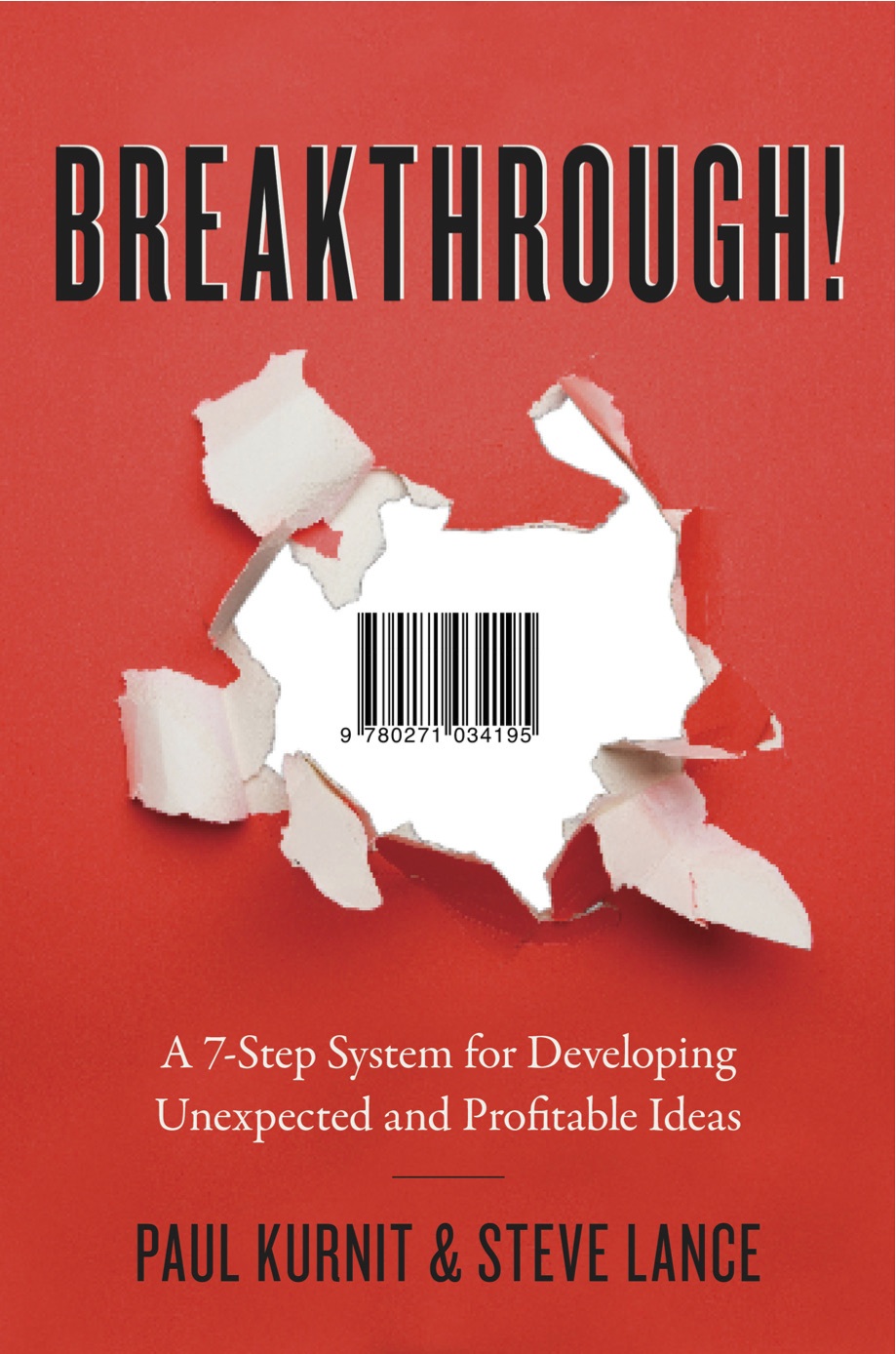 This is the cover of our new book about breakthrough ideas, how to find them and make them come to life in the marketplace.
Details
Paul Kurnit Bio
                           Paul Kurnit
Paul Kurnit is an internationally recognized marketing, advertising and entertainment executive.  As founder and president of Kurnit Communications, PS Insights and KidShop, Paul extends his marketing and management expertise in customized engagements for brand innovation and ideation, new product development, business and brand strategy, market planning, research and communications solutions.  He works with established corporations, businesses and brands, new business start-ups and pro social marketing initiatives. 
Advertising
 Paul began his advertising career at Benton & Bowles and Ogilvy & Mather, where he managed classic brands and new product development for Procter & Gamble (Charmin, Crest, Pepto Bismol, NyQuil), Kraft/General Foods (Post Cereals, Beverages, Maxwell House Coffee) American Express (Travelers Cheques, American Express Card and Corporate Card, Amex Travel Services) and Hasbro Toys.  As President of Griffin Bacal, a DDB agency, Paul played a major role in the dynamic growth of Hasbro into a leading international toy and entertainment business.  He has led a vast range of client businesses in virtually every consumer and service category.
Entertainment
While at Griffin Bacal, Paul served as Executive Vice President at sister company, Sunbow Entertainment, a leading producer of award winning children's television programming and film.  At Sunbow, Paul's credits include three after school specials for ABC and CBS, two network children's series, "The Mask" for CBS and "The Tick" for Fox and over 900 syndicated and international programs and three feature films for Transformers, GI Joe, My Little Pony and other properties.
 Trends
Paul is an expert in management, social, cultural, international trends and business applications.  He is a frequent speaker on the conference circuit sharing original research and trend observations and implications in over 100 unique presentations covering a wide array of marketing issues. He has also been a trends pioneer in the communications business, having created specialty business units dedicated to a diverse range of marketing areas.  These include LiveWire: Today's Families Online®, Kid Think Inc.™, Licensing Works!™ and  Trend Walk™. 
Customized Solutions
Kurnit Communications, PS Insights and KidShop are dedicated to helping companies achieve dynamic change through customized engagements and innovative techniques.  Proprietary products and process offerings include The One Day Marketing Plan™, CEO Assist™, Brand Therapy™, Idea Surge™, Strategic Search™, Evaluation Engine™, Marketing Merge™, Brand Action Audit™ and Trend Pops™.
Media Expert
The media frequently call on Paul for his unique perspectives on marketing and social trends.  He has been interviewed for television, radio and print media and has appeared on ABC (Good Morning America), NBC (The Today Show), CBS Evening News, CNN, Fox, NPR, WOR, and in American Demographics, The Wall Street Journal, The New York Times, USA Today, The Washington Post, Barron's, Advertising Age, Adweek, Brandweek, Entrepreneur and numerous local station broadcasts and newspaper articles.
Clients
Paul has worked with a wide range of clients including Bayer, ConAgra, Dial, Disney, Educational Testing Service, Frito-Lay, General Mills, Golden Books, Good Humor, Hasbro, HBO, Kraft, Lipton, L'Oreal, Mattel, McDonald's, Mead, National Geographic, Nickelodeon, PepsiCo, Playtex, Pillsbury, Polaroid, Procter & Gamble, Quaker, Reader's Digest, Schwab, Scholastic, Sony, Toys R Us, Unilever, Universal Studios, US Postal Service, Velcro, Xerox and Yahoo among many others and start-up companies. 
Pro Social
Paul is active in pro-social youth initiatives.  He worked with the Institute of Medicine on a major initiative for the Centers for Disease Control related to children's' food and beverage marketing practice, America's Promise to advance youth community service, The Charles and Helen Schwab Foundation for LD (Learning Disabled) kids, The Leadership Conference on Civil Rights, The Partnership for a Drug-Free America, The Office of National Drug Control Policy, Montefiore Hospital for AIDS awareness, an anti-cheating campaign for The Educational Testing Service and The Floortime Foundation dedicated to breakthroughs in autism.  Paul also serves on the Creative Review Committee (CRC) for campaign development for the Advertising Council.
Academic
Paul is clinical professor of marketing at Pace University's Lubin School of Business, teaching courses in Advertising, Marketing, International Advertising, Media, Trend Tracking.  He also serves Pace as university advisor for the American Advertising Federation (AAF) National Advertising Student Competition (NSAC).  Paul has taught at the New School for Social Research (where he developed the school's advertising curriculum) and at the City University of New York at its Hunter, Queens and LaGuardia campuses teaching Communication Theory, Mass Communication, Film and Theatre.  He has been a guest lecturer at Columbia, Cornell, University of Chicago, UConn, Duke, University of Hartford, Ithaca, Penn State University, Tufts, University of Massachusetts, University of South Carolina, University of Texas and University of Wisconsin.
Boards
Paul is on the board of directors of The Advertising Educational Foundation (AEF) and the advisory boards for PBS Kids Next Generation Media, Pace Lubin School of Business, The Children's Advertising Review Unit (CARU) and Privo for children's privacy protection online.  He is a member of the editorial boards for Advertising and Society Review and Young Consumers:  The International Journal of Advertising and Marketing to Children.
Writing
Paul is co-author of
Food Marketing to Children and Youth: Threat or Opportunity

,

Branding 2.Oh! Own the Content and Control Your Brand Destiny

 
When the Going Gets Tough, Tough Businesses Get Growing
The Little Blue Book of Marketing: Your Team Way to Build a Killer Plan in Less Than a Day and coming in October, 2010 from AMACOM

Breakthrough! A 7-Step System for Developing Unexpected and Profitable Ideas
Contact:  Paul Kurnit • 914 737-0300 • paul@kurnit.com